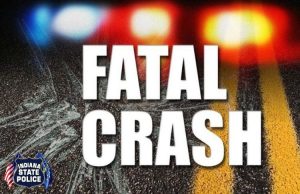 LIBERTY, IN — Indiana State Police troopers were dispatched to a serious crash on US 27 just north of Liberty around 10:16 pm Saturday.
When first responders arrived at the scene, they located a gray 2013 Subaru BRZ with heavy front-end damage and an inverted gray Lexus RX350 off the roadway, down a wooded embankment.
When medical personnel made their way down to the Lexus, they located the operator, 61-year-old Anthony J. Talbert and his wife, 66-year-old Donna M. Talbert, both of Richmond.
Anthony Talbert was transported to Reid Hospital in Richmond by ambulance.
Donna Talbert was flown to Miami Valley Hospital in Dayton, Ohio by Care Flight for medical treatment.
It was determined that the couple were wearing their seatbelts before the crash.
A backseat passenger identified as 37-year-old David A. Marshall Jr. of Liberty was pronounced dead at the scene by Union County Coroner Rob Leavitt.
It was determined that Mr. Marshall was not wearing a seatbelt.
The operator of the Subaru was located near the crash scene, uninjured, and identified as 22-year-old Brock A. Robinson of Richmond.
When Trooper Jacob Ridgeway questioned Robinson about the crash, he recognized Robinson displayed signs of impairment and an odor of alcohol.
Trooper Ridgeway transported Robinson to Reid Hospital in Richmond to submit to a chemical test per the Indiana Implied Consent Law.
The preliminary investigation by the Indiana State Police Crash Reconstruction Team determined the Subaru was traveling at a high rate of speed before colliding with the rear of the Lexus.
After the collision, the Lexus traveled off the roadway and struck a guardrail before going airborne into a wooded area, colliding head-on with a tree, and coming to rest on its roof.
Brock Robinson was arrested and held in the Union County Jail.
He is preliminarily charged with:
1.) Operating While Intoxicated Causing Death, Class "4" Felony.
2.) Leaving the Scene of a Fatality Crash, Class "4" Felony.
3.) Reckless Driving Causing Death, Class "5" Felony.
US 27 was closed for approximately 6 hours while the crash was being investigated.
Assisting Trooper Ridgeway with the investigation are Sergeants Coley McCutcheon and Scott Keegan of the Indiana State Police.
Assisting with the crash were the Union County Sheriff's Office, Liberty Fire Department, Richmond EMS, Reid Health, Care Flight, Union County Coroner Rob Leavitt, Pardo's Towing, and Pollitt's Towing.
(Indiana State Police-Pendleton Post press release)