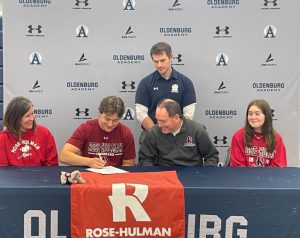 From this release provided by Oldenburg AD Patrick Kolks, Caleb Lehman is just the second football player in OA's history to sign a letter of intent to play football at the next level.
On Thursday, Caleb was surrounded by family and coaches as he signed with Rose-Hulman next year. He will be looking to help the Fightin' Engineers in the backfield as a running back, one of the many positions he played for the Twisters over his four seasons.
During his time at OA, Lehman played in 26 games, carried the ball 253 times and accumulated 1,360 yards while finding the end zone eight times. Lehman helped out on the defensive side of the ball too, racking up 113 total tackles (69 solos) and intercepted the ball 3 times.
Lehman will major in computer science with a minor in robotics.
Rose-Hulman is located in Terre Haute, IN and competes in the Heartland Conference at the NCAA Division III level. Last season, the Fightin' Engineers won the Heartland Conference and advanced to the NCAA Division III playoffs where they fell to DePauw 26-21. The Fightin' Engineers will seek revenge when they open up the 2022 against Depauw on Saturday, September 3rd at DePauw.
Congratulations to Caleb and his family on this wonderful achievement!
We thank Mr. Kolks for the signing information.