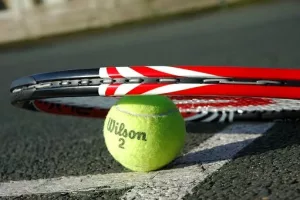 The following are high school girls tennis recaps from Thursday, April 21.  There may be updates, so please check back.
In girls tennis, Batesville swept South Dearborn 5-0.  Summer Ratcliffe, Laney Walsman and Isabelle Wonnell were Bulldog winners in singles action.  The BHS teams of Cayman Werner with Molly Meer and Isabelle Westerfeld and Jada Day took the doubles matches.
Batesville JV winners included Madison Wanstrath, Josie Meyer and Ella Wolters on the single side.  Gabrielle Elston and Olivia Raab paired up for a doubles victory.
The Knights Sportsmanship Award went to Emma Kochert and Baileigh Lack took home the Toughness Award.
Varsity match scores:
1 Singles- Summer Ratcliffe (BA) def. Chloe Babock (SD) 6-0, 6-0
2 Singles- Laney Walsman (BA) def. Jessica Bloembaum (SD) 6-0, 6-0
3 Singles- Isabelle Wonnell (BA) def. Baileigh Lock 6-0, 6-2
1 Doubles- Cayman Werner/Molly Meer (BA) won 6-2, 6-2
2 Doubles- Isabelle Westerfeld/Jada Day (BA) won 6-0, 6-0
***
Lawrenceburg won all nine matches against Rushville, five varsity and four JV.  Tiger varsity singles winners included Elle McMullen, Sarah McAndrew and Emma Meyer.  The doubles teams of Ryleigh Offutt with Lola Safaviyan and Ella Shelton with Kelsey Offutt also won.
Varsity match results:
1 Singles- Elle McMullen (LB) def. Audrey Gulley (RU) 6-0, 6-0
2 Singles- Sarah McAndrew (LB) def. Jin Calaf (RU) 6-2, 6-3
3 Singles- Emma Meyer (LB) def. Jade Edwards (RU) 6-1, 6-0
1 Doubles- Ryleigh Offutt/Lola Safaviyan (LB) def. Emory/Wilson (RU) 6-0, 6-2
2 Doubles- Ella Shelton/Kelsey Offutt (LB) def. Vogel/McDaniel (RU) 6-0, 6-2
***
Connersville lost 4-1 to Lincoln.  Maddie Hauger collected the Spartans only point at third singles.
For CHS on the JV side, Julia Poe won a singles match while the doubles team of Aubrey Hunt with Aubrey Eggers also won.
Connersville varsity match scores:
1 Singles- Kerstin Ellis 4-6, 2-6
2 Singles- Katie Mitchell 4-6, 3-6
3 Singles- Maddie Hauger 6-4, 6-3
1 Doubles- Sarah Cogar/Grace Kelly 4-6, 3-6
2 Doubles- Harley Morris/Tori Hanson 1-6, 7-5, 4-6
We thank everyone who contributed to the recaps.