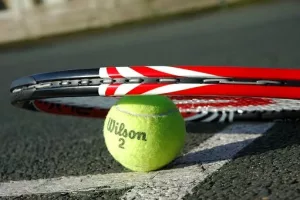 The following are high school girls tennis recaps from April 8 and 9.  There may be updates, so please check back.
Rushville girls tennis lost 4-1 to Waldron. The Lions only win came from Jin Calaf at 3 singles (6-1, 6-0).
Oldenburg was supposed to play an invitational at Silver Creek, but the event was canceled.  OA was able to schedule a match at Jennings County and beat the Panthers 3-2. Alyssa Wanstrath at third singles and the doubles teams of Evelyn Storms with Mimi Wilder and Emma Back with Mary Hunter all won for the Twisters.
OA match results:
1 singles- Reagan Brown (JC) defeated Isabel Price (OA) 6-1, 6-3
2 singles- Tatum Brown (JC) defeated Evie Vanderpohl (OA) 6-3, 6-3
3 singles- Alyssa Wanstrath (OA) defeated Lucy Brown (JC) 6-0, 6-1
1 doubles- Evelyn Storms/Mimi Wilder (OA) defeated Maria Alberti/Lily Schildknecht (JC) 6-1, 6-1
2 doubles- Emma Back/Mary Hunter (OA) defeated Makenzey Carr/Mia Silvey (JC) 6-1, 6-1
We thank everyone who contributed to the recaps.