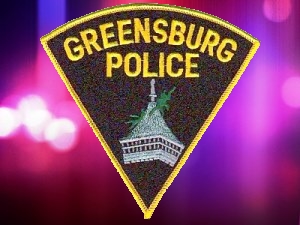 GREENSBURG, IN —  A Sunman man was arrested after a two-state police chase that began during a traffic stop in the City of Greensburg Thursday evening.
Greensburg Police say Officer Devin Moore pulled over a car on Vandalia Road around 6:40 pm Thursday. The driver identified himself as Henry Smith.
While Officer Moore was verifying the driver's identity, Smith allegedly fled the scene in his car and drove onto eastbound I-74 toward Cincinnati.
Tire deflation devices were laid down by law enforcement during the pursuit, and the suspect lost three of his four tires.
The suspect's vehicle came to a stop in the median near Harrison, Ohio, and he was arrested by Greensburg Police officers.
Police say during the investigation, they discovered Smith is actually 33-year-old Henry Thomas Smith-Haas of Sunman.
Smith-Haas was arrested and taken to the Decatur County Jail, where he was booked on charges of Resisting Law Enforcement With a Motor Vehicle, Operating While Intoxicated, Battery Against A Police Officer (all Level 6 felonies), Reckless Driving and Criminal Recklessness (Both Class B misdemeanors).
The Greensburg Police Department received assistance from the Decatur County Sheriff's Office, Decatur County Central Dispatch, the Ripley County Sheriff's Office, the Batesville Police Department, the Dearborn County Sheriff's Office, Indiana State Police, the Harrison Ohio Police Department, the Hamilton County Ohio
Sheriff's Office and Tim's Wrecker Service.