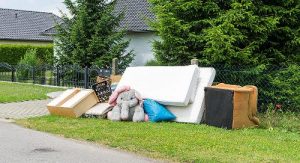 GREENSBURG, IN — Greensburg City Council Tuesday night approved the week of May 16 through 20 for the first heavy trash pickup week of the year.
It's open to all residential customers of the city's trash collection service.
"We pretty much collect anything they put out on the curb," said Street Commissioner Mark Klosterkemper. "Some of the exceptions are, we can't take car tires by Indiana Code. We also cannot take CFC appliances, which is anything that has a chilling capacity, and the third thing is we cannot take any electronics."
Klosterkemper also emphasized there are other items that city crews will not pick up.
"There's no yard waste collection, there's no grass collection, there's no brush collection, there's absolutely nothing done but trash that week," he added.
A second heavy trash collection week this year in Greensburg is tentatively scheduled for August.