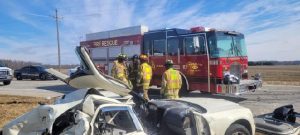 REXVILLE, IN — One person was flown to the hospital while two others were taken by ambulance from a two-vehicle accident with entrapment on US 421 south of Rexville around 1:20 pm Saturday.
Two of the victims had to be cut out of their wrecked vehicles.
There's no word on the victims' names or conditions.
Responding agencies included the Ripley County Sheriff's Office, Indiana State Police, Versailles Fire and Rescue, the New Marion Volunteer Fire Department, and Ripley County and Kings Daughters Hospital EMS.