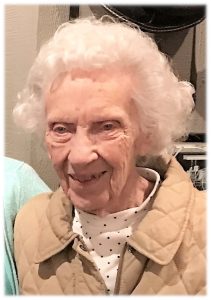 UPDATED SERVICE ARRANGEMENTS
Martha E. (Scott) Wainscott, 95, of Dillsboro passed away Monday, February 14, 2022 at Ripley Crossing in Milan. Martha was born on Tuesday, March 9, 1926, in Switzerland County, Indiana; daughter of Colon and Mary (Rockfeller) Scott. Martha was an active member of Washington Baptist Church in Elrod and taught Sunday School. She worked for Kroger in Lawrenceburg in the meat department for 10 years. Her hobbies included sewing, knitting, crocheting, woodworking, and canning food raised on the farm.
Martha will be missed by her daughter Janet (Rick) Beard of Dillsboro; sisters Harriet Loraine Colello of Kentucky, Phyllis Smith of Oklahoma, and Frankie Teague of Kentucky; grandchildren Shari Caldwell, Christi Caldwell, and Charles Caldwell; and three great-grandchildren.
Martha was preceded in death by her parents, Colon and Mary Scott, three brothers, and two sisters.
Family and friends may gather in remembering Martha from 9:00 – 10:00 AM on Thursday, March 3, 2022 at Filter-DeVries-Moore Funeral Home. A service will immediately follow at 10:00 AM with Pastor Bruce Fitzsimmons officiating. Burial will take place in Rising Sun Cemetery.
Memorials may be given in honor of Martha to the Washington Baptist Church  or Ripley Crossing Activity Fund.
Filter-DeVries-Moore Funeral Home has been entrusted with arrangements, 12887 Lenover Street, Box 146, Dillsboro, IN 47018, (812) 432-5480. Please visit our website at www.filterdevriesmoore.com to share your condolences and memories of Martha.