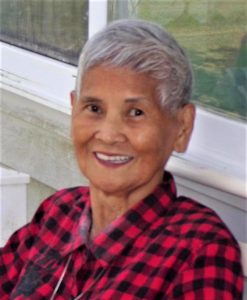 Lily G. Schuck, 83, of Aurora, Indiana, passed away Wednesday, February 16, 2022, in Cincinnati, Ohio.
She was born March 2, 1938, in Dumaguete City, Negras Oriental Philippines, daughter of the late Jose Hernanado Sr. and Margarita (Galera) Hernando.
Lily was a very devoted Catholic, and attended St. Mary's Catholic Church. Donating to help others, especially within the Catholic faith and family, was very important and brought her much joy. She was a most loving, caring and giving sister, and aunt and was generous to her step family and all that she cared about. Lily was loved and admired by all. She loved nature, flower gardening, feeding the outdoor birds and the hummingbirds. She loved her dog BoBo, but mostly enjoyed spending time with family.
Lily preceded her husband, Arthur Schuck, in death by just a few days; she is survived by her five step-children, Betsey (William) McKee of Aurora, IN, Ron (Connie) Schuck of Newnan, GA, Brenda (late Paul) Beverly of Osgood, IN, Bonnie (Robert) Cheatham of Moores Hill, IN, Terry Schuck of Moores Hill, IN; siblings, Susuyada Ohiraratana, Mary Flor Hernando, Ellen Lucas, Nicetas Quiamco and Catalina Barredo; several nieces and nephews; and special niece, Arnele Quiamco.
She was preceded in death by her parents, Jose and Margarita; three siblings, Jose Hernando, Jr., Abraham Hernando, Efren Hernando.
Friends will be received for a joint service for Lily and Art on Saturday, March 5, 2022, 12:00 pm – 2:00 pm at the Rullman Hunger Funeral Home, 219 Mechanic Street, Aurora, Indiana.
Services will be held at the Funeral Home, at 2:00 pm.
Contributions may be made to the St. Vincent de Paul or St. Mary's Catholic Church. If unable to attend services, please call the funeral home office at (812) 926-1450 and we will notify the family of your donation with a card.
Visit: www.rullmans.com