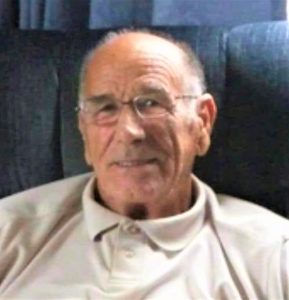 Arthur Edward "Art" Schuck, 91, of Aurora, Indiana, passed away Sunday, February 20, 2022.
He was born August 31, 1930, in Aurora, IN, son of the late Frank Schuck and Cecilia (Mock) Schuck.
Art worked as a plumber for Schuck Plumbing & Heating, retiring after over 20 years of service.
Art enjoyed watching sports, and fishing. He always had a project going. He liked to build things and tinker on cars. He also enjoyed traveling.
Arthur is survived by his children, Betsey (Bill) McKee of Aurora, IN, Ron (Connie) Schuck of Newnan, GA, Brenda (late Paul) Beverly of Osgood, IN, Bonnie (Bob) Cheatham of Moores Hill, IN, Terry Schuck of Moores Hill, IN; brothers, Earl Schuck, and Nathaniel Schuck; grandchildren, Sarina (McKee) and Mike Daugherty of St. Augustine, FL, Amber (McKee) and Micah Burden of Watsontown, PA, Rachel (Schuck) and Christian Venn of GA, Ryan Schuck of FL, Alisha (Quicksall) and Scott Herbert of GA, Jessica Quicksall, IN and Danielle Cheatham, Moores Hill, IN; 18 great-grandchildren; 1 great, great-grandchild.
He was preceded in death by his parents, Frank and Cecilia Schuck; his loving wife, Lily Schuck preceded him in death by a few days; siblings, Katherine Schuck Wright, Frank Schuck, Walter Schuck, Donald Schuck, and Raymond Schuck.
Friends will be received for a joint service for Art and Lily on Saturday, March 5, 2022, 12:00 pm – 2:00 pm at the Rullman Hunger Funeral Home, 219 Mechanic Street, Aurora, IN.
Services will be held at the Funeral Home, at 2:00 pm with Pastor Kenny Hopper officiating.
Interment will follow in the River View Cemetery, Aurora, Indiana.
Contributions may be made to the American Cancer Society. If unable to attend services, please call the funeral home office at (812) 926-1450 and we will notify the family of your donation with a card.
Visit: www.rullmans.com