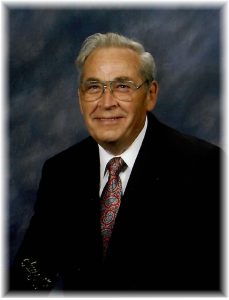 Rev. Joseph Earl Wilson, 90, of Greensburg passed away February 7, 2022 in Lakeland, Florida. He was born March 11, 1931 in Muncie, Indiana to Morgan K. and Corrine (Lewis) Wilson.
Joseph was a graduate of Muncie Central High School class of 1949. He graduated from Olivet Nazarene University in Kankakee, Illionis in 1959 with a THB degree and later earned his master's degree in education from Ball State University in Muncie. Joseph dedicated 25 years to teaching for the Shelbyville Central School System. He was a devout Christian and served as a minister for many years as well.
On March 22, 1953, Joseph married the love of his life, Ardith Clevenger. This past year, they were able to celebrate their 68th wedding anniversary.
In his free time, Joseph enjoyed reading and watching sports. He liked to walk for exercise and loved to watch Judge Judy.
Joseph is survived by his wife, Ardith Maxine (Clevenger) Wilson; children, Kathy Jo Wilson, Richard Max (JoAnna), and Daniel (Debra); grandchildren, Stephanie Pruitt, Josine Cleary, Melissa Scott, Ashley Martin, Jared, Ryan, Bradley, and Robert Wilson; great-grandchildren, Addison, Amelia, Mason, Lauren, Abigail, Connor, Bryce, Nathan, and Adelaide; and brother, Dave Wilson.
He was preceded in death by his parents, his sister Sharon, and brothers Kenneth, Jim, and George.
A visitation will be held on Saturday, February 12, 2022 from 9:00 AM to 11:00 AM with funeral services officiated by Reverend Perry Cook beginning at 11:00 AM all at Church of Nazarene in Greensburg. Burial will take place at Cedar Friends Cemetery southwest of Farmland, Indiana.
In lieu of memorials, the family has asked that you kindly donate your time making a meal for shut ins.
Please feel free to leave a memory or a message of comfort for the Wilson family in the online guestbook at www.meyersfuneralhomes.com.