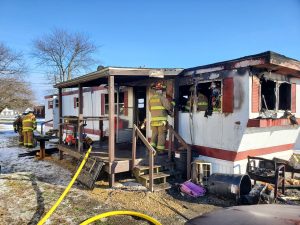 OSGOOD, IN — Shortly after returning from the accident on US 421 in which former Osgood assistant fire chief Norman Kappes lost his life, firefighters were called to a mobile home fire on Lynn Street in Osgood around 2:30 Saturday afternoon.
Fire crews from Osgood, Napoleon, and Versailles arrived at the scene and saw heavy fire and smoke coming from the mobile home.
The fire was quickly put out but the home was heavily damaged (pictured).
There were no injuries reported.
In addition to the Osgood and Napoleon volunteer fire departments and Versailles Fire Rescue, also responding was Ripley County EMS.