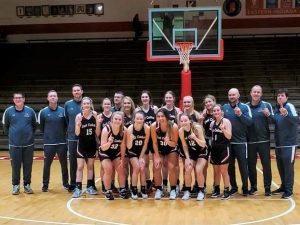 Both the East Central Lady Trojans and the South Ripley Lady Raiders went undefeated in their respective conferences to take home the hardware.  EC went 7-0 in the EIAC and Ripley went 6-0 in the ORVC.
East Central's average final score against its seven conference opponents was 59-30.  The Trojans closest EIAC game was a 52-42 final agaist Rushville.
South Ripley's average final score versus its six league foes was 40-25.  The Raiders had two tight ORVC games in the final week of the season, 34-30 over Jac-Cen-Del and 31-29 against Switzerland County.
The first to win a conference outright were the Lady Trojans on Thursday when they defeated Connersville 59-20 at the Spartan Bowl.
The St. Leon ladies held the Fayette County gals to just 10 points over the final three quarters.  The Trojans forced 22 Spartan turnovers and outrebounded the opposition by 16.
East Central's Hope Fox recorded 19 points and seven rebounds. Laney Baker logged 16 points, three assists and three steals while Josie Trabel tallied 11 points, seven boards, six dishes and three swipes.
Connersville's Karsen Morgan and Abbie Schwartz both scored six.
The Trojan reserves also finished 7-0 in the conference after trouncing the Spartan JV 48-11.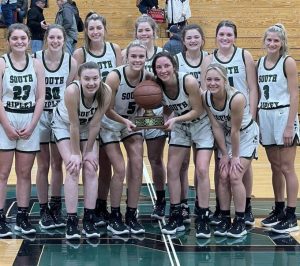 South Ripley was next to sweep a title on Saturday with a 49-22 home victory over Southwestern Hanover.  The Raiders held the Rebels to single digit scoring in every quarter and just 15 percent shooting overall (6/41).  Ripley had one of its better shooting games converting 46 percent (19/41).
Rachel Meyer led Team Green in scoring with 14 points with Gracie Gunter right behind her scoring 13.  Meyer also had eight rebounds and four assists.  Gunter garnered four boards, four dishes and five steals.
Abby Fulton had 11 points, five rebounds and three steals for the Hanover girls.  Teammate Emma Long netted nine points and 11 caroms.
We thank everyone who contributed to these confererence championship recaps.