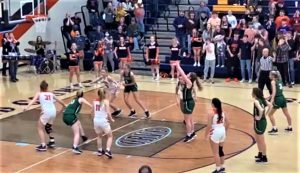 It looked bleak, but South Ripley erased a 12-point, second-half deficit to overtake Switzerland County and won 31-29 Thursday in Vevay.
By doing so, the Lady Raiders clinched a tie for the ORVC title and can win it outright with a home victory over Southwestern Saturday.
Coach Matt McNew's Ripley crew is 5-0 in the conference with only the Rebels remaining on the schedule.  Switzerland County dropped out of contention, finishing 4-2 in league play.  Jac-Cen-Del beat Southwestern Thursday and is "in the barn" at 5-1. The Eagles can still earn a share of the title but only if South Ripley stumbles in Versailles Saturday.
As heard on WRBI, South Ripley opened Thursday's showdown in Vevay in slow mo mode but struggled holding on to the ball as the Pacers led 6-3 at the end of the first quarter.
At halftime, Switz still led by three, 14-11.  Jesse and Maddie Duvall combined for nine Pacer points at intermission.  Emily Flood had seven for the Raiders.
The Swiss put together a great third quarter, leading by as many as a dozen, before posting a 23-12 advantage at the stop.
But to keep their hopes of a perfect conference season alive, the ladies from Versailles scored 14 unanswered points in the fourth to go up 26-23.
After being held scoreless for over seven minutes in the final quarter, Maddie Duvall finally scored for the Pacers, tying the game twice late on a pair of triples at 26 and 29.
Then with the game on the line in the closing seconds, Ripley's Mya McNew buried what proved to be the game winning free throws.  The Pacers final possession ended in a turnover and South Ripley had won 31-29.
Flood tallied 10 to lead the Raiders with sisters Rachel and Sarah Meyer both bucketing six.  Rachel Meyer also had 10 rebounds, Flood had four boards and three steals while Sarah Meyer pulled five off the glass.
The Duvalls, Maddie and Jessie, each turned in 12 points for the Swiss.
The biggest stat of the night was free throw shooting.  South Ripley made 8-of-13 while Switzerland County converted just 3-of-11.  The Raiders also had a 26-17 advantage on the glass.
Switzerland County won the JV game 35-32. Lexi Mozingo and Bri Stow of the Raiders and Pacers respectively netted 15 points.
We thank Switzerland County AD Brian Graham for the accommodations and hospitality.  We also thank coaches Matt McNew and Brooke Todd for their information and time in our pregame show.