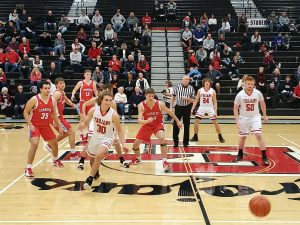 The East Central boys didn't play Friday due to a weather postponement.  However, the Trojans more than made up for it on Saturday with a convincing 70-43 victory over visiting North Decatur.
As heard on WRBI, the St. Leon lads 7-0 spurt in the first quarter was where the hosts began to gain control.  EC led 14-9 after the opening eight minutes.
A 9-0 run in the second pushed the point spread to 12 midway through the second quarter.  It was a 35-25 game at the half.
Caleb Mergenthal and Ryan Selhorst scored 10 and nine respectively over the first 16 minutes for East Central.  Both players sank a pair of triples.  The last from Selhorst was part of a rare 4-point play.
Reid Messer's seven points led ND.  Teammate Blake Spears scored six on two, three balls.
The Trojans dominated period three by a count of 22-7 to go up 57-32 and went on to win by 27 after a nearly evenly played fourth.
Mergenthal finished with a game-high 22.  Casey McQueen, who had an 8-point third quarter, totaled 13.  Jayden Dennis netted 12 while Selhorst kept his nine from the first half.
The Chargers Kaden Muckerheide posted 12 points.  Carson Parmer put in eight and Messer's seven points from the first two quarters carried over to the finish.
East Central did an outstanding job of protecting the basketball, committing just three turnovers.  Fifty-five percent shooting from the field (30/54) certainly helped the Trojan cause.  That included a 9-of-19 effort from the arc.
North Decatur shot a solid 50 percent from the floor in the first half but was held to just 21 percent in the second half.  Final shoot stats showed ND making 14-of-42.
In the reserve game, East Central won 38-35 and was led in scoring by Rhys Hofer with 13, AJ Reynolds with nine and Dylan Maxwell with seven. The ND JV got nine points from Cooper Parmer and eight from Brady Mauer.
We thank East Central AD Don Stonefield for the accommodations and hospitality.  We also thank coaches David Disbro and PJ Metz for their information and time in our pregame show.