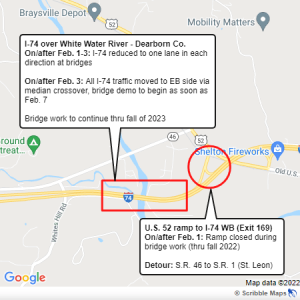 DEARBORN COUNTY, IN — Indiana Department of Transportation contractor Milestone Contractors LP plans to close lanes and shift traffic next week at the I-74 bridges over the Whitewater River in Dearborn County. The bridges are located just under a mile west of U.S. 52 near the Ohio state line. Initial work took place in October to construct median crossovers that will be used to shift traffic across I-74.
On or after Tuesday, February 1, I-74 will be reduced to one lane in each direction while crews complete striping and move the concrete barrier wall. The work is expected to take up to three days, but may extend or be rescheduled due to weather.
Also on or after February 1, the U.S. 52 ramp to I-74 WB (Exit 169) is scheduled to close so rehabilitation work can begin on the westbound bridge. The official detour will follow State Road 46 to State Road 1 at St. Leon where drivers may access westbound I-74.
As early as Thursday, February 3, all westbound traffic will move to the eastbound side of I-74 via median crossover. One lane in each direction will be available for travel. This traffic pattern will remain in place until work on the westbound bridge is complete in the fall. Demolition of the westbound bridge is currently scheduled to begin on February 7.
The $24.8 million contract was awarded to Milestone in September and includes replacing superstructures on both I-74 bridges. The overall completion date is June 25, 2024, with an intermediate completion date for both bridges in the fall of 2023.
Motorists are reminded to slow down, use extra caution, and drive distraction-free in and near all work zones. All work is weather-dependent and schedules are subject to change.
(Indiana Department of Transporation press release)