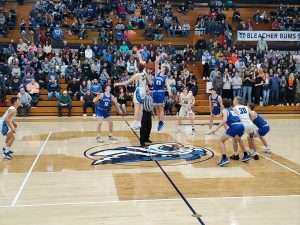 Franklin County's boys varsity basketball team earned its 10th straight win Friday in Brookville.  As heard on WRBI, the Wildcats defeated Batesville 46-29.
The Cats never trailed in the EIAC contest, leading 6-1 after the first stop and 17-13 at intermission.
For the Brookville boys through two quarters, Chad Cox had six points and Brandt Ertel scored five. Eli Pierson and Sam Johnson both posted four for Batesville.
In the third, Franklin County got up by as many as 12, but Batesville sliced the spread down to seven by quarter's end 33-26.
The Wildcats controlled the fourth quarter by a count of 13-3 and won by 17.
Franklin County's leading scorer was Brant Ertel with 15 points, Chad Cox followed with nine and Austin Hill scored eight.  Sam Johnson put in 10 points for Batesville. Teammate Cole Pride was next in line with six.
Key stats showed the Cats hit 53 percent from the floor (16/30) while the Dogs converted just 29 (8/27).  Franklin County also had a plus-9 advantage on the glass (21-12).
Batesville won the JV game 42-27.
The Bulldogs reserves got 12 points from Conner Drake and eight from Jack Gurnkemeyer.
We thank Franklin County AD Denny Dorrel for the accommodations and hospitality along with coaches Aaron Garrett and Mark Foster for their information and time in our pregame show.