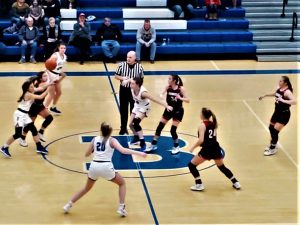 Between Rushville's first half, outside shooting and Batesville's struggles to hang on to the basketball, the Lady Lions easily defeated the Lady Bulldogs 55-27 Thursday at The Pound.
In a game heard on WRBI, the host Dogs scored the game's first two points but the visiting Lions then scored the next 20.  Rushville led 13-2 at the end of the first quarter and 20-2 before BHS found the net again.  By halftime, it was 31-10 Lions.
In the first half, Rushville's Leoni Boyer dropped in four, 3-point baskets for 12 points.  Teammates Briely Munchel scored eight and Annika Marlow had seven.  Alyson Peters' four points led Batesville.
The Lions held a 41-14 advantage at the end of the third quarter before finishing the night with a 28-point victory.
For Rushville, Boyer led all scorers with 16 points, Munchel netted 12 and Marlow put in 11.  Peters' eight points were best for Batesville.
While Rushville pressed, most of Batesville's 27 turnovers came in the half-court set. The Bulldogs, overall, did a good job breaking the press.
The Lions hit 7-of-18 three balls, 10-of-12 charity tosses and committed just nine turnovers.
Batesville was just 1-of-7 from deep and 4-of-6 at the line while turning the rock over 27 times.
The JV final saw the Bulldogs win 38-31.  Cora Deputy led the BHS reserves with 11 points.  Ava Hanson followed with six.
We thank Batesville AD Bryan Helvie for the accommodations and hospitality.  We also thank coache Helvie and coach Melissa Marlow for their information and time in our pregame show.