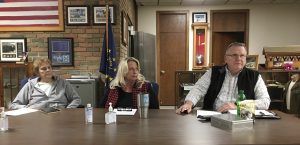 SUNMAN, IN — Sunman Town Council announced at a special meeting Thursday night that it will hire an interim marshal to serve as the town's top law enforcement officer for the time being, and then conduct a search for a full-time marshal.
This comes a week after Jason Hoffman was fired as Town Marshal.
Town Council President Don Foley said there is no timeline for hiring a new marshal, and that they plan to do their due diligence and make the right choice.
He added that at no time since last week's action was Sunman without police protection.
Foley also pledged that town leaders will do a better job of communicating to residents, as a result of people at the meeting saying that rumors have been running rampant for the past week.
The speculation led to a larger than usual crowd at a Sunman council meeting.
Council members were asked why Hoffman was dismissed but reiterated that they can not comment publicly on private matters that are protected by the employer/employee relationship.
After a question was asked about how each member voted, Council members disclosed it was 2-1 to fire Hoffman, with Carol Eckstein and Sharon Baker voting in the majority, and Foley voting against termination.
Meantime, three volunteer reserve deputies are still considered to be on the force but they maintain they do not have police powers without a marshal in place.
Several other officers have resigned since Hoffman's firing.