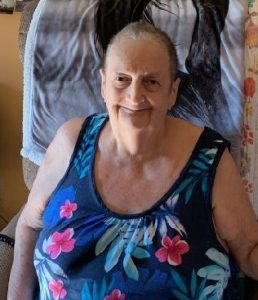 Ruth Ann Turner, 79, of Aurora, Indiana, passed away Thursday, January 13, 2022.
She was born August 26, 1942, in Cincinnati, OH, daughter of the late Macklin Vossler and Anna (Ems) Vossler.
Ruth Ann loved to read. She enjoyed working with her flowers, and she had a green thumb. She also enjoyed photography, especially taking pictures of her family. She loved all of her dogs, Cinnamon, Sagie, Currie, Sugar, Spice and Wolfie. Her favorite thing to do was spend time with her family, and she will be greatly missed.
Ruth is survived by her loving spouse Stephen Turner of Aurora, IN; children, Kim Lewis of OH, Mary Carlisle of Bloomington, IN, Sandy Davidson of AL, John (Renae) Scanlon of Indianapolis, IN, Missy (Jeremy) Durant of GA, Penny (Johan) Kenney of Bennington, IN, Lorrie (Keith) Wilson of Goshen, OH; step children, Monica Turner of Aurora, IN, Fred (Mary Ann) Vossler of Mason, OH; 22 grandchildren, several great-grandchildren, l great, great-grandson.
She was preceded in death by her parents, Macklin and Anna; son, Paul "Chris" Scanlon; brother, John Vossler; sister, Mary Ellen Redrow.
Services will be held at the convenience of the family.
Contributions may be made to the Loving Hearts Hospice. Please call the funeral home office at (812) 926-1450 and we will notify the family of your donation with a card.
Visit: www.rullmans.com