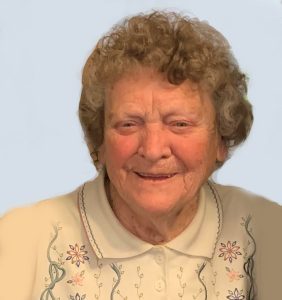 Rachel Viola Cook, 91, of Moores Hill, Indiana, passed away Wednesday, January 12, 2022, in Edgewood, Kentucky.
She was born March 3, 1930, in Dearborn County, IN, daughter of the late Joseph Vinson and Gertrude (Collier) Vinson.
Rachel worked in the lab at Thatcher Glass, retiring after over 25 years of service.
She was a member of the Thatcher Glass Retiree Club, the Eastern Star Versailles Chapel 333, Moores Hill Ladies Auxilliary of the American Legion, Ladies Courtesy Card Murat Team, and the Berean Baptist Church in Batesville, Indiana.
She was very independent and she loved being on the farm. She enjoyed going to Wagon Train rides and horse shows with her husband Raymond. Rachel loved to garden, cook and read her Bible. She loved sweets, especially chocolate, but time with her family was her greatest joy.
Rachel is survived by her children, Bonnie (Dale) Rummel of Moores Hill, IN, Ray Cook, Jr. of Moores Hill, IN; siblings, Emma (Johnnie) Seals of Sunman, IN, Irvin (Linda) Vinson of Manchester, IN, Vivian Runner of Philadelphia, PA; grandchildren, Jodi (Chris) Dougherty, Brian (Diane) Rummel, Jason Rummel, Alesha (Fred) Neal, Raymond Cook III, and Christopher Cook; many great-grandchildren.
She was preceded in death by her parents, Joseph and Gertrude Vinson; husband, Raymond Cook Sr. and several siblings.
Friends will be received Monday, January 17, 2022, 11:00 am – 1:00 pm at the Rullman Hunger Funeral Home, 219 Mechanic Street, Aurora, Indiana.
Services will be held at the funeral home at 1:00 pm.
Interment will follow in the Mt. Sinai Cemetery, Aurora, Indiana.
Contributions may be made to the Funeral Home or Berean Baptist Church. If unable to attend services, please call the funeral home office at (812) 926-1450 and we will notify the family of your donation with a card.
Visit: www.rullmans.com