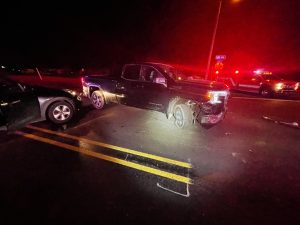 BATESVILLE, IN — A driver was taken to the hospital following a collision at the intersection of State Road 46 and Columbus Avenue that happened Wednesday around 7 pm.
Batesville Police say 70-year-old Douglas Haldeman of Sunman was turning right onto 46 from Columbus Avenue when he veered into the path of a pickup truck heading west on 46 driven by 58-year old Robert Kennett of Greensburg.
Kennett was treated at the scene and taken to Margaret Mary Health for further evaluation.
Patrolman Ethan Back was the investigating officer and was assisted at the accident scene by Patrolman Stephen Sieverding, the Batesville Fire Department, and Batesville EMS.