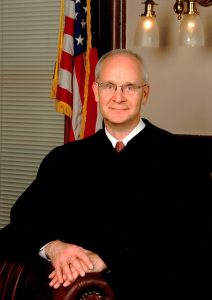 DEARBORN/OHIO COUNTIES, IN — Longtime Dearborn-Ohio Circuit Court Judge James Humphrey (pictured) has announced he will retire when his current term ends on December 31, 2022.
Humphrey has been on the bench since 1999.
His announcement came during a ceremony to unveil a new stain-glass window outside the Dearborn Circuit Courtroom.
The Judge says the window is a gift to the community from him and his wife Heidi as a token of appreciation for the opportunity to serve for the past 23 years.