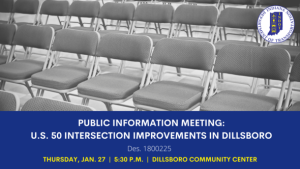 DILLSBORO, IN — In partnership with Infrastructure Engineering, Inc., the Indiana Department of Transportation will host a public information meeting for an intersection improvement project on U.S. 50 in Dillsboro on Thursday, Jan. 27, at the Dillsboro Community Center (9824 Central Ave., Dillsboro, IN). The meeting will provide an opportunity for the public to learn more about the project, ask questions, and provide comments to the project team.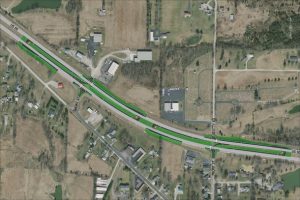 As proposed, the just over $2.6 million project includes reconfiguring two intersections along U.S. 50 into reduced conflict intersections (RCIs), the first at Front Street and the second at Short Street (pictured). The project aims to enhance safety, improve traffic flow, and reduce crash frequency. Construction is anticipated to be completed under traffic shifts and lane closures with preliminary work beginning as early as this fall.
Reduced conflict intersections are used as alternatives to traditional intersections on high-speed, four-lane divided highways. Instead of vehicles crossing fast-moving lanes of mainline traffic to go
straight or turn left, motorists on secondary roads turn right in the same direction of traffic at the RCI, merge into the left lane, and then make a U-turn in the direction they intend to travel. Specific to this project, the intersection at Front Street will still allow left turns from westbound U.S. 50 and the intersection at Short Street will still allow left turns from eastbound U.S. 50. More information about RCIs can be found here.
Doors will open at 5:30 pm to allow the public time to view displays and interact with project personnel before the meeting. A formal presentation will begin at 6 pm. Project information will also be posted on the INDOT Seymour District webpage prior to January 27 and can be viewed at any time.
Questions and comments may be submitted in-person at the information meeting or via email to Dustin Quincy ([email protected]com) with Infrastructure Engineering.  All comments are requested by end of business the following Thursday, February 3.
Face coverings and social distancing will be encouraged at the meeting. Hand-sanitization stations and handwashing facilities will be available.
(Indiana Department of Transportation press release)