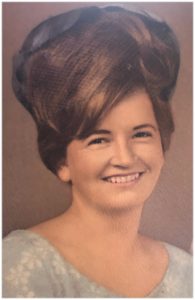 Judith "Judy" Ann (Rub) Bruce, 79, of Dillsboro passed away Thursday, January 13, 2022 at The Waters of Rising Sun. Judy was born on Saturday, November 28, 1942 in Cincinnati, Ohio; daughter of Clifford and Emma (Klinkerman) Rub. Judy married the love of her life, Jerry Bruce, on September 27, 1967. She was a member of the Kingdom Hall Jehovah's Witness. Judy was a homemaker and enjoyed crocheting, working puzzles, painting, and mowing grass at the farm. She loved spending time with her family, and friends, especially her grandchildren.
Judy will be missed by her husband, Jerry Bruce, of Dillsboro; son Keith Allen (Dawn) Bruce of North Vernon; sisters Dorothy Billman of Dillsboro and Joy Ann (Jim) Stiffer of Cincinnati, Ohio; grandchildren Marcus and Kali Bruce; and great-grandson Malcolm Smith.
Judy is preceded in death by her parents, Clifford and Emma, and brother William Rub.
Family and friends may gather in remembering Judy from 10:00 AM – 12:00 PM on Tuesday, January 18, 2022 at the Filter-DeVries-Moore Funeral Home in Dillsboro. A service will immediately follow at 12:00 PM. Burial will take place in Oakdale Cemetery.
Memorials may be given in honor of Judy to the donor's choice. Filter-DeVries-Moore Funeral Home has been entrusted with arrangements, 12887 Lenover Street, Box 146, Dillsboro, IN 47018, (812) 432-5480. Please visit our website at www.filterdevriesmoore.com to share your condolences and memories of Judy.