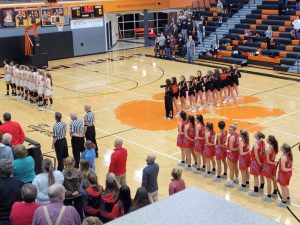 Our first of six basketball broadcasts this week was Tuesday at Lawrenceburg as the Jac-Cen-Del Lady Eagles traveled to take on the Lady Tigers.  It was an evenly matched pairing which saw LHS eventually prevail 54-44 thanks in part to a strong fourth quarter by Kirsten Cross.
Coach Scott Smith's Eagles came in after falling in the Ripley County championship to South Ripley while coach Zane White's Tigers were coming off the high of winning their sixth consecutive Rivertown Classic title.
One thing which hurt JCD in its loss Friday to South Ripley was rebounding.  But Jac more than held its own on the glass against Lawrenceburg (32-26 LHS) and only committed 10 turnovers.
However, the Osgood gals had another off night scoring as the club connected on just 29 percent of its total shots (14/49).  The Burg bucketed 49 percent (21/43) overall with a rather dominant 62 percent coming from inside (18/29).
Both teams enjoyed five-point leads in the first half.  After the Eagles led 12-9 following the first quarter, they got up 16-11 in the second.  Then the Tigers scored 10 straight points to go from five down to five up, 21-16.  It was 21-19 at the half.
Chloe Meyer's 10 points led the Orange and Black while Oliva Neal's seven led the Scarlet and Columbia Blue.
Early in the third, the Nesters pulled within one but never got back in front.  The Tigers posted a 39-33 advantage at the stop paced by 10 quarter points from Lizzie Redar.
In the fourth, the Tigers went to Kirsten Cross inside where she made three field goals and five charity tosses to help her team to the 10-point victory.
Cross had 18 points, five blocks and five rebounds.  With her early success at blocking shots, she changed the direction or intention of JCD shooters throughout the game after that.    Teammates Redar and Meyer carded 16 and 15 points.  Redar had a game-high 13 boards. Meyer pulled down eight caroms and carded five assists.
Annabelle Williams netted nine points, four rebounds and three assists for the Eagles.  Reagan Hughes and Desiree Sparks both scored eight.  Sparks had a team-best eight glass cleaners.
Lawrenceburg also won the JV game 55-30. Kelsey Borgman's eight points were best for Jac-Cen-Del.  Both Delaney Hughes and Sophia Sullivan added six.
We thank Lawrenceburg AD Ryan Knigga for the accommodations and hospitality plus coaches Zane White and Scott Smith for their information and time in our pregame show.