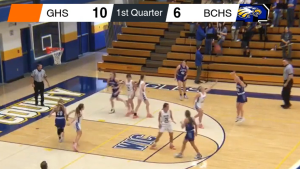 Here are some girls and boys varsity basketball results from Tuesday, January 11.
Greensburg beat Brown County 59-35. The Pirates Kayla Tamm nailed seven three-point baskets on her way to 23 points.  Mylie Wilkison netted 20.
North Decatur came from behind to top Morristown 41-35.  The Chargers outscored the Yellow Jackets 18-4 in the final period.  Morristown did not hit a field goal in the closing eight minutes.  Kacey Barker led ND with 12 points.  Madelyn Bohman booked nine and Madi Allen added eight.
Nourth Decatur's JV also won 34-26 and got eight, seven and six points respectively from Sydney Rohls, Ally Whitaker and Kasey Ogden.
Oldenburg bested Hauser 49-34. For the Twisters, Ellie Ryan and Emma Weberding logged 10 and nine points respectively. Ryan also had seven rebounds.  Kate Weber recorded six points, four assists and three steals.
Rushville was better than Shelbyville 51-44.  Annika Marlow racked up 22 points.  Sophia Dora followed with 13 and Briley Munchel tallied nine points, six assists, five steals and four rebounds.
Shawe got a victory over Rock Creek 46-34. Ava Turner's 14 points led the Toppers in scoring, but teammate Harliee Hill had a double double with 12 points and 12 rebounds.  Allison Knoebel chipped in nine.
Also on the girls side, Connersville fell to Richmond 51-44 and Milan came up just short against Rising Sun 50-46.
There were a few boys games Tuesday night as well.
Southwestern Hanover fell to New Albany 59-48. For the Rebels it was Colton Cloud with 13 points, Peyton Gwin 12 and eight each from Mitch Mingione and Zach Cole.
South Ripley defeated Oldenburg 47-32 and Edinburgh lost in the Johnson County tournament to Greenwood 37-34 in overtime.
We thank everyone who contributed to the recaps.