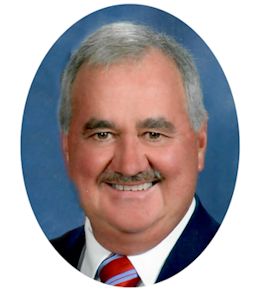 Alvin U. Wuestefeld, age 74 of Batesville, died Tuesday, January 11, 2022. Born January 11, 1948 in Batesville, he is the son of Veronica (Nee: Doll) and August Wuestefeld. He married Connie Wallpe August 31, 1974 at St. Louis Church. Al served in the Navy during the Vietnam War and after the service would work for Verizon 38 years as a Communications Technician. He was a member of the Prell-Bland American Legion Post #271, the Ripley County V.F.W. Post #3183 and the Knights of Columbus Council #1461.
After working 38 years, Al didn't slow down in retirement. He continued to stay as busy as ever, always willing to help family and friends with their projects. He's fried chicken for countless events over the years along with wiring many houses in the area. He had the ability to fix anything. An avid sports fan, Al followed all the local teams. From the Batesville Bulldogs to I.U., Purdue, Xavier, the Reds and the Bengals. He was always up for a game of cards, especially Solo. He enjoyed playing golf and was a regular with the Monday morning golf group. For years he has raised a huge garden, giving away more than he kept. That garden was meticulously cared for, weed free and he raised the best tomatoes according to his family. Al also for years grew Christmas trees on his property. He just liked being outdoors and being busy. His greatest joy was time with his family. Whether it was ice fishing, cards or giving rides with the four-wheeler, time spent with his brothers, children and especially the grandchildren, was what he loved.
He is survived by his wife Connie; daughter Lori (Matt) Pulskamp of Batesville; sons Tim (Angela) Wuestefeld of Austin, Texas, Eric (Heidi) Wuestefeld of Westminster, Colorado; brothers David Wuestefeld of Greenfield, Indiana, Ray Wuestefeld of Enochsburg, Joe Wuestefeld of Batesville, Gene Wuestefeld of Greensburg and six grandchildren. In addition to his parents, he is also preceded in death by his sister Veronica Fehlinger.
Visitation is Sunday, January 16th, from 1 – 4 p.m. at the Weigel Funeral Home. Funeral services will be 10 a.m. Monday, January 17th at St. Louis Church with Rev. Bill Ehalt officiating. Burial will be in the church cemetery with military graveside rites conducted by the Prell-Bland American Legion and the Ripley Co. V.F.W. The family requests memorials to St. Louis School or the Batesville Athletic Boosters. For online condolences go to www.weigelfh.com.