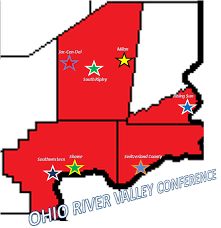 In the latest Ohio River Valley Conference report covering January 3-8, South Ripley's Emily Flood and Jac-Cen-Del's Caleb Simon were both named ORVC Basketball Players of the Week.  Each were MVPs of the Ripley County Tournament.
Flood recorded 29 points and 11 rebounds over a pair of games while Simon's two game totals were 30 points, 25 rebounds, eight assists and three blocks.
Two Rising Sun athletes were named ORVC Swimmers of the Week: Ani Edwards and Nate Garver.
Other Ripley County athletes recognized as top performers included: Milan's Audrey Schmidt; South Ripley's Gracie Gunter, Rachel Meyer, Nick Schwarte and Blake Volz; and Jac-Cen-Del's Annabelle Williams, Reagan Hughes, Desiree Sparks, Wyatt Day and Justin Swinney.
Please click on this link for the full ORVC Report January 3-8.
We thank conference recorder Travis Calvert for the report.