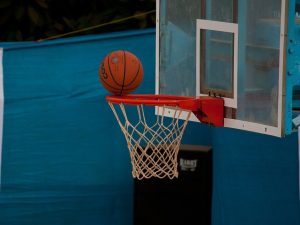 The following are boys junior high and freshman basketball recaps from January 10 and 11.
The South Ripley seventh grade nipped Jac-Cen-Del 41-40 in overtime.
The Raiders worked their way back from an early 8-2 deficit to eventually force the extra time.  Ripley won the game on a three at the buzzer by Drew Volz who led all scorers with 21.  Eli Gilpin added eight.
Click here to see the game winning 3-pointer by South Ripley's Drew Volz.
For Jac-Cen-Del, Darian Grieshop had 12 points plus five rebounds and five assists.  Blake Wagner posted 10 points and six boards while Neil Sullivan contributed nine points and six caroms.
The Eagle eighth grade beat the Raiders 51-36 after trailing 11-4 at the first stop.  Lane Carroll racked up 20 points, 12 rebounds and six assists for the Birds.  Teammates Carson Comer and Caden Kohlman followed with 12 and 10 points.
The Batesville seventh grade lost 37-25 at Greensburg.  They Bulldogs got behind 11-2 early and couldn't catch up.  Carson Hartley tallied 12 points for BMS.
The Bulldog eighth beat the Pirates 48-40.  Brayden Maple dialed up 22 points in the Batesville victory.  Landon Raver scored seven.
North Decatur's eighth grade held off a late run by Knightstown to win 31-30.  The Chargers carried a 24-13 advantage heading into the fourth quarter.
Chase Youngman's 15 points paced ND with teammates Logan O'Dell and Brody Barker booking six each.  Garrett Schwering had a team-best seven rebounds and tossed in four points.
In a boys freshman game, Batesville lost to Greensburg 26-19.  Carson Laker booked seven points for the Bulldogs.
Batesville's seventh grade pulled off a 30-28 victory at Rushville.  Preston Blessing got a big rebound in the closing seconds to help seal the victory.  Carson Hartley led the Bulldogs with 12 points.  Caleb Laker scored nine.
The Batesville eighth was also a winner over Rushville. 41-17.  It was only a 17-12 game at halftime. Cayden Drakes 14 points were best for BMS.  Brayden Maple put in 10.
We thank everyone who contributed to the recaps.