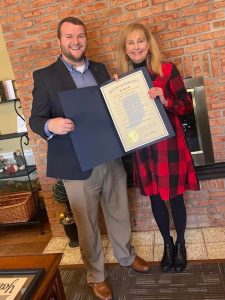 VERSAILLES, IN — Longtime Southeastern Indiana Regional Planning Commission (SIRPC) Executive Director Susan Craig was recently presented with the Distinguished Hoosier Award.
The award recognizes Craig's dedication and leadership during her 40-plus year career with SIRPC.
She was presented the award by Andrew Forrester, who is a representative from Governor Eric Holcomb's Office.
Craig joined the agency as an Economic Planner in 1981 and was promoted to the Executive Director's position in 1983.
Since 1985, Craig has played a key role in the development and implementation of over $44 million in local, state, federal, and private funds for community and economic development projects, and through her leadership, has been involved in over $148 million in hundreds of these projects for the counties served by SIRPC, including Dearborn, Decatur, Franklin, and Ripley counties.
Craig is a graduate of South Ripley High School and Ball State University.
She will retire as Director at the end of the year but will continue assisting the agency with projects as a consultant.