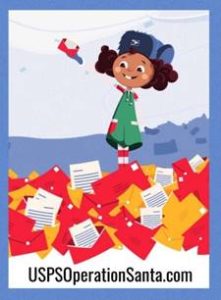 SOUTHEASTERN IN — Times are hard and the holidays can be stressful. Every day can be a struggle for some families simply trying to make ends meet. Everyone deserves to experience the magic of the holiday season.
This is where the USPS Operation Santa program comes in.
USPS Operation Santa has been making wishes come true for 109 years. This year, letters have been streaming in since November 1, but there is still time to get your wishes to the big guy this season.
Simply write a physical letter to Santa, put it in an envelope, include a complete return address — full name, street address, apartment number, city, state, and ZIP Code — add a postage stamp and put it in the mail.
Letters need to be postmarked by December 10.
These letters populate USPSOperationSanta.com.
Envelopes without full names and complete return addresses will not be posted.
Envelopes without postage stamps will not arrive at the location.
(United States Postal Service press release)