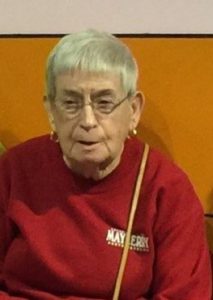 "Tiny" Avis L. Rivera, 83, of Aurora, Indiana, passed away Tuesday, November 30, 2021, in Cincinnati, Ohio.
She was born February 7, 1938, in Aurora, IN, daughter of the late Joseph "Pete" Donk and Hazel (Ruble) Donk.
Tiny worked for Aurora Utilities, retiring after over 37 years of service. She was a member of theVineyard Church. She graduated from Aurora High School and was an Aurora City Judge for 10 years.  Tiny served her country as a member of the United States Navy.
Tiny collected Hummel snowmen figurines. She loved to travel, and spend time with her family and friends.
She is survived by her children, Anthony Rivera of Aurora, IN, Allyn (Kim) Rivera of Cadiz, KY, Angela (Eric) Rivera Emmons of Elkhart, IN; siblings, George H. Donk of Moores Hill, IN, Billie Sue Walker of Burlington, NC, Terry (Sherri) Donk of Terra Alta, WV; sister in law, Rose Donk of Aurora, IN; grandchildren, Kyle Rivera, Allyssa Rivera, Cassidy Shaum, Macalister Shaum, Miranda Shaum, Catherine Shaum and Spencer Shaum; great-grandchild, Carter Shaum.
She was preceded in death by her parents, Joseph and Hazel; siblings, Joseph "Petie" Donk, Dona Robinson, Gilbert Donk, and Eleanor Kleine.
Friends will be received Thursday, December 2, 2021, 5:00 pm – 8:00 pm at the Rullman Hunger Funeral Home, 219 Mechanic Street, Aurora, Indiana.
Services will be held at the Funeral Home, Friday at 11:00 am with Pastor Dave Hall officiating.
Interment will follow in the River View Cemetery, Aurora, Indiana.  Military graveside services will be conducted by the Southeastern Indiana Honor Guard.
Contributions may be made to the American Cancer Society. If unable to attend services, please call the funeral home office at (812) 926-1450 and we will notify the family of your donation with a card.
Visit: www.rullmans.com