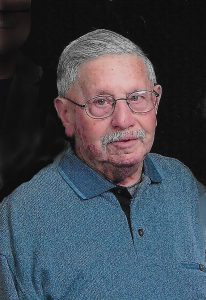 Franklin C. "Frank" Cantwell, 87, of Aurora, Indiana, passed away Tuesday, November 30, 2021, in Lawrenceburg, Indiana.
He was born February 16, 1934, in Aurora, IN, son of the late John Cantwell and Lula (Robbins) Cantwell.
Frank served his country as a member of the United States Army. He was a member of the Life Church.
Frank worked as a Grounds keeper for Versailles State Park.
He enjoyed watching television, gardening, and yard work. Frank loved spending time with his family, especially his grandchildren.
Franklin is survived by his daughter, Melodie Tibbits of Aurora, IN; daughter-in-law, Bonnie Cantwell of Aurora, IN; grandchildren, Jeremy (Melissa) Tibbits, Jessica Heidorn, Justin (Angie) Tibbits, Sarah (Jon) Baker; great-grandchildren, Baylin, Kaisey, Madison, Devan, Olivia, Levi, Valerie, Lucas, Riley, Hazel, and Alex.
He was preceded in death by his parents, John and Lula; loving wife of 58 years, Christina Y. "Teany" Cantwell; son, Greg Cantwell; and sister, Florence Jane Thomas.
Friends will be received Tuesday, December 7, 2021, 5:00 pm – 7:00 pm at the Life Church, 201 W. Conwell Street, Aurora, Indiana.
Services will be held at the church, Wednesday at 11:00 am with Brother Kenneth Hopper officiating.
Interment will follow in the Union Cemetery, Moores Hill, Indiana. Military graveside services will be conducted by the Southeastern Indiana Honor Guard.
Contributions may be made to the Life Church. If unable to attend services, please call the funeral home office at (812) 926-1450 and we will notify the family of your donation with a card.
Visit: www.rullmans.com