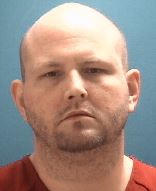 COLUMBUS, IN — A Columbus man is jailed on a $1 million bond for the death of his son.
35-year-old Travis Tuttle (pictured) is charged with Neglect of a Dependent Resulting in Death (Level 1 Felony) and Possession of a Narcotic Drug (Level 6 Felony).
Columbus Police say Tuttle's 8-year-old son Lealyn was found dead in March in a home and narcotics and drug paraphernalia were allegedly found inside the residence.
An autopsy report indicated Lealyn's death was caused by acute fentanyl and diphenhydramine intoxication.