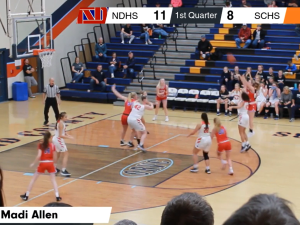 The following are girls basketball recaps from Saturday, November 27.
Girls basketball recaps for Saturday, November 27.
North Decatur doubled up visiting Knightstown 52-26.
The Chargers leading scorer was Madelyn Bohman with 15 points, Madi Allen added 10 and Ella Kunz contributed eight.
Brookelyn Snyder scored 10 points for the Panthers.
Rushville lost to Jennings County in North Vernon 48-25.
Lexi Morris scored 10 for the Lions.  Annika Marlow added five points, four rebounds and three steals.
Hauser had a 59-33 victory in Hope over Rising Sun.
For the Shiners, Baylee Morris scored nine and Nora Powell logged eight points and seven rebounds.  Alyssa Simpson secured a team-best 11 boards and chipped in five points.
Waldron rolled over Greenwood Christian at home 70-40.
For the Mohawks, Nichole Garner put in 18 points, Megan Bogemann followed with 15 points and Bella Larrison logged 10.
Southwestern Shelby dropped a 57-48 game at home to Trinity Lutheran.
The host Spartans had no answer for the Cougars Bailey Tabeling who tallied 34 points.
Lily Kerber canned 18 for the Spartans in the loss while Cy Stockdale connected on four triples on her way to 14 points.
Information for the following games will be added when received:
Greensburg fell at Seymour 74-58.
Milan lost at home to New Washington 75-31.
We thank everyone who contributed to the recaps.