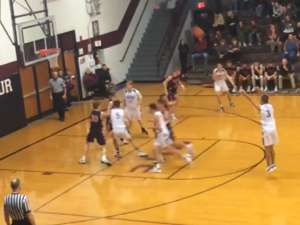 The following are boys basketball recaps for the weekend of November 26-27.
South Decatur beat Switzerland County in Westport 82-64. 
For the Cougars, Hunter Johnson put in 42 points (for a second straight game) and pulled down seven rebounds. Jacob Scruggs had 16 points, six assists and five boards.  South Decatur enjoyed a sizable advantage on the glass, 28-13.
For the Pacers, Cam Craig, Jacob Williams and Cannan Johnson posted 18, 15 and 14 points respectively.  Craig led Switz in rebounding with five and Williams had the club's most assists with four.
South Dearborn bested Franklin County in Brookville 58-42.
The Knights Reese Willoughby put away 26 points and Eli Hoffman had 13.
The Wildcats got 16 points from Chad Cox plus seven points, five caroms and three steals from JD Stokes.
Waldron edged Knightstown 49-44 at home.
The Mohawks got 26 points and 14 rebounds from Lucas Mitchell.  Bryant Becker had seven points, seven boards, four assists and three steals.  Bryce Yarling also scored seven and had five takeaways.
Knightstown was led in scoring by Michael Roberson with 19.  Connor Pyle contributed eight points and six caroms.
Waldron outscored the visitors 13-4 at the line.
Switzerland County topped Austin 68-64 in Vevay. 
For the Pacers, Cam Craig racked up 30 points, nine rebounds and three assists.  Teammate Bryce Turner turned in 18 points, four assists and four boards.
Edinburgh won 80-56 in Trafalgar over Indian Creek.
The Lancers Caleb Dewey dialed up 33 points and eight rebounds.  Travis Jones had a 14/14 night in points and rebounds.  Jarrett Turner and Riley Palmeter posted 11 and 10 points respectively.
Javan Crouch recorded 20 points for the Braves and Landon Sichting carded 15 points and six boards.
EHC scored 12 more points than IC at the line and doubled up the Braves on the glass 38-19.
Southwestern Shelby topped Morristown 49-44 in the Spartan Gym.
Nolan Laster had 16 points to pace the Yellow Jackets in their victory.
Jordan Jones had a game-high 24 for Southwestern while Jonah DeArmitt led the floor in rebounding with 15 caroms and added nine points.
South Ripley won big at Rising Sun 78-42.
Dylan Martin had 10 points and five rebounds to lead the Shiners.  Peyton Merica followed with seven points.
Details for the following games will be added when received:
Connersville downed Delta 51-42.
Shawe lost to New Washington 57-45.
Hauser dropped two games in tournament play, 81-28 to host Loogootee and 88-76 to Evansville Day.
We thank everyone who contributed to the recaps.