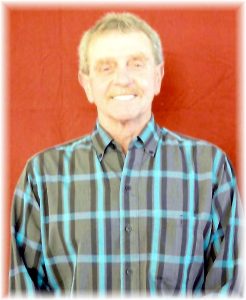 Jimmy "Jim" Ray Broughton, 64, of Sunman, passed away Sunday, November 28, 2021 at home surrounded by his family.
He was born to Charles and Norma (Mobley) Broughton in Batesville, Indiana on February 12, 1957. He proudly served in the U.S. Navy.
Jim was a true outdoorsman and could often be found enjoying his time in nature. He was constantly working on his garden and yard. He certainly inherited his green thumb from his mother. Over the years, he became an exceptionally talented carpenter and worked on a wide variety of projects, including Paul Brown Stadium.
Jimmy loved music, mowing his yard, and was an avid hot sauce connoisseur. He always got a kick out of being able to scare and pull pranks on those closest to him. However, Jim still managed to be someone that even a stranger could count on if they needed him.
Some of Jim's favorite memories included mushroom hunting, especially while growing up with his siblings. He always looked forward to the fall time as well and the nights he would spend around a bonfire with his family who he loved dearly.
Jim is survived by his daughters Destiny Broughton and Cortney Cole (Jack); father, Charles Broughton; grandson, DeVaunte Carter; sisters, Shirley Meyers (Daryl), Kim Baker (Ken), and Sharon Gray (Chuck). He was preceded in death by his mother, Norma, and his brother, Charles Wayne Broughton.
A visitation will be held on Saturday, December 4, 2021 from 11:00 AM to 1:00 PM immediately followed by a memorial service and military honors conducted by the Batesville VFW Post #3183 and Prell-Bland American Legion Post #271 all at Meyers Funeral Home in Batesville, Indiana.
The family requests memorials be made to the Broughton Family. They may be brought to services or mailed to: Meyers Funeral Home, P.O. Box 202, Batesville, IN 47006.
Please feel free to leave a memory or a message of comfort for the Broughton family at www.meyersfuneralhomes.com in the online guestbook.