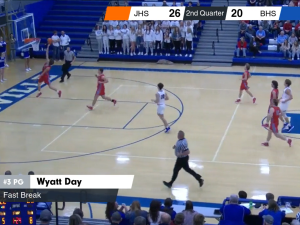 It was an instant Ripley County Boys Basketball Classic Saturday night on WRBI as Jac-Cen-Del defeated Batesville 82-80 in double overtime.
The Eagles led 20-14 after one quarter and 36-32 at the half.  JCD added three points to its lead by the end of the third period 52-45.  But the Bulldogs erased the deficit and tied the game at 63 to force overtime.  Batesville's Cody Mohr and Cade Kaiser both hit big shots late for the Bulldogs.
Both teams tallied 10 points in the first extra session.  The final three came with no time left on the clock as Batesville's Cole Werner sank a trifecta to send the game into a second OT.  Jac was two points better in the game's final four minutes of extra basketball to win 82-20.
The Eagles Wyatt Day led all scorers with 29 points and hit 9 of 12 at the line.  He also contributed six assists.  Caleb Simon had just one miss in 12 attempts at the stripe and finished with 19.  He also recorded four steals.  Justin Swinney and Ryan Wilson reached double figure scoring for JCD as well with 12 and 11 points respectively.
Mohr led BHS with 20 points, all of which came after halftime.  Thomas Raver followed with 19 points and secured six rebounds. Cade Kaiser canned 17 points during a big second half and also logged five swipes.  Cole Werner netted 14 points and shared team top rebounding honors with Cade Kaiser at eight boards each.
Batesville outshot Jac-Cen-Del 55 to 39 percent from the floor.  But the Eagles won the game at the line making 25 of 32 while the Bulldogs were just 7 of 15.
This was the second straight win by the Osgood boys over the Dogs.  The last time Jac-Cen-Del booked two victories in a row over their northern neighbors was in the January 2007 Ripley County Tournament (first round) and the following season in November 2007 during their non-tournament meeting.
The Bulldogs claimed the JV game 65-52.  The BHS reserves got 28 points from Sam Johnson, 15 via Connor Drake and 10 from Jack Grunkemeyer.
Top JCD scorers during the undercard match were Landon Kohlman 15, Caleb White 13 and Seth Drockelman with eight.
We thank coaches Clint Bohman, Aaron Garrett and Jay Gerkin for the information.