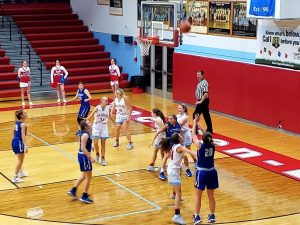 Friday night on WRBI, we had the Turkey Hangover Game.  The Ripley County girls basketball matchup in Osgood saw Class 1A-No. 2 Jac-Cen-Del hold off a game effort by Batesville to win 55-48.
The Eagles led 10-7 at the end of the first quarter.  JCD later scored 11 of the half's final 15 points to lead 31-20 at intermission.
Scoring headliners from the first half were the Eagles Annabelle Williams with nine points and the Dogs Emma Weiler with five.
Coach Scott Smith's Nesters went up 15 early in the third only to see coach Bryan Helvie's Canines come unleashed.  The Bulldogs rallied to get back within three at the stop, 40-37.
The spread got down to two in the fourth, but Jac buried eight straight free throws to stretch its advantage to 10.  The final margin was seven, 55-48, and marked the 10th straight victory by the Eagles over the Bulldogs.
Carley Pride, Sophie Gesell, Bre Wells and Alyson Peters all had five points in the second half to help keep Batesville in the game.  But fourth quarter free throws by Reese Obendorf, Aundrea Cullen, Williams and Reagan Hughes helped Jac-Cen-Del win it.
Williams led all scorers with 14 points and also had a team-best five assists and three steals. Obendorf and Cullen scored 11 each.  JCD teammate Desiree Sparks added nine and recorded a game-high 12 rebounds.
Weiler and Peters both put in nine points for BHS. Wells was next in line with seven.  Calley Kaiser netted six and led the team in rebounds with seven.
Batesville shot a season-high 50 percent from the field and had another good night at the line making 10 of 13.  But Jac-Cen-Del went to the stripe more often and converted 21 of 32.
BHS won the JV game 41-34.
We thank coaches Helvie and Smith for their information and time in our pregame show. We also thank Jac-Cen-Del AD Kate Todd for the accommodations and hospitality.