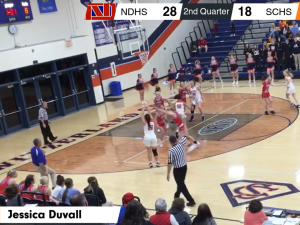 Girls basketball recaps from Monday, November 22 through Wednesday, November 24.
North Decatur lost by five at Switzerland County, 50-45.
In a match of 2A sectional oppontents, ND led 28-21 at halfime.  Both teams shot free throws well.  The Pacers were 14 of 16 while the Chargers hit 13 of 17.
Kelsey Haley led the North Decatur with 16, Madi Allen followed with 15 and Ella Kunz added nine. The Duvall sisters, Maddie and Jessie, combined for 35 Pacer points.
Franklin County lost to Talawanda (OH) 57-34. 
The Wildcats had a tough shooting night.  Nicole Mears scored 13 for the Brookville ladies.
Rushville edged New Palestine 46-44.
The Lions got 13 points from Annika Marlow and a dozen each from Briley Munchel and Belle Gossett.  The trio combined for 15 rebounds while Gossett, individually, had four assists.
South Dearborn fell to Harrison (OH) 59-32. 
The Knights struggled with possession committing 30 turnovers which Harrison converted into 27 points. SD was led in scoring by Natalie Rupp with 12 points.  Alli Robertson of Harrison put in 30.
Lawrenceburg defeated Franklin County 56-35.
Lizzie Redar led LHS in scoring with 16 points.  Teammate Kirsten Cross carded 14 points, eight rebounds, three assists and theee steals.
Southwestern Hanover lost to Madison 69-28.
The Cubs saw three players hit double figure scoring:  Cameron Cahall with 17, Cadence Traylor 16 and Taylor Linch 14. The Rebels Kylie Eccles collected 12 points and nine rebounds.
And Triton Central doubled up Morristown 42-21.
Gracie Laster netted 10 points in the loss for the Yellow Jackets.
We thank everyone who contributed to the recaps.