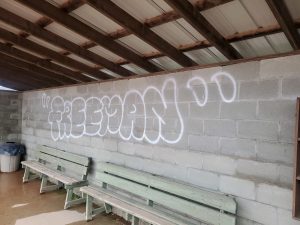 GREENSBURG, IN — A local sports complex was recently hit by vandals.
The baseball and softball dugouts at the Decatur County Sports Complex were tagged with spray-painted messages touting white supremacy.
Messages painted on the dugouts included the words "White Power" with a swastika, along with the words "Freeman" (pictured) and "Free."
The sports complex, located in the county park and fairgrounds area, is used primarily by the Greensburg Youth Baseball League and the Decatur County Girls Softball Association.
A plea was made on social media for anyone who has information about the vandalism to contact someone from the baseball league, softball association, or the Parks Department.