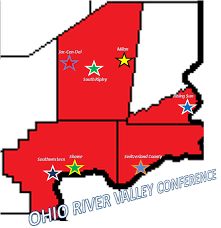 The ORVC has released its weekly report from November 15th through the 20th.
The ORVC Girls Basketball Players of the Week are Milan's Rachel Holt and Jac-Cen-Del's Annabelle Williams.
Holt captured a triple double during the Indians game with Indiana School for the Deaf with 10 points, 10 rebounds and 12 steals.
And for the Eagles in two games, Williams amassed 29 points, 12 boards, 12 assists and six swipes.
Williams, by the way, leads the conference (as of this report) in total assists with 21 and a free throw percentage of .890.
Other Ripley County girls basketball athletes nominated included South Ripley's Gracie Gunter and Emily Flood along with Jac-Cen-Del's Jalee Rider and Reese Obendorf.
Please click on this link for the ORVC Report for November 15-20.
We thank conference recorder Travis Calvert for the report.