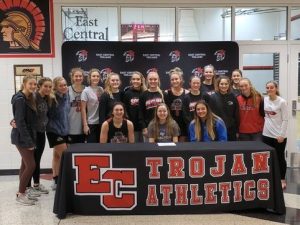 As heard Wednesday night on WRBI, the East Central Lady Trojans survived a sluggish first half and a spirited effort by Greensburg's young Lady Pirates.  EC's defense kicked into high gear in the second half and the offense quickly followed as the Trojans won 52-37.
Greensburg had built a 24-15 lead at halftime, but East Central outscored the hosts 37-13 in the second half to win by 15.
The victory for EC marks the first time in eight years that a visiting team in this series came up a winner.
Greensburg coach Jason Simpson saw Mylie Wilkison lead a very young Pirate team in the first half with 15 points.  She finished with 21.  Teammate Leah West scored seven over the first 16 minutes and totaled 11 for the game.
Coach Kevin Moore's Trojans got a huge second half from Hope Fox where she netted all 15 of her points.  EC pal Josie Trable scored a team-high 18.
The Trojans, who hit just 26 percent from the floor in the first half, converted 61 percent in the second half.  Many of those shots were good looks off 15 forced turnovers.  Over the final 16 minutes, East Central had 16 more shot attempts than Greensburg.
We thank coaches Moore and Simpson for their information and time in our pregame show, Greensburg's June Rigney for her assistance and GCHS AD Stacy Meyer for the accommodations and hospitality.