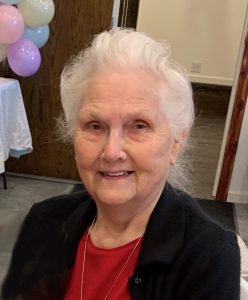 Gloria M Hall, 86, of Guilford, Indiana, passed away Monday, November 22, 2021, in Guilford, Indiana.
She was born February 23, 1935, in Guilford, IN, daughter of the late Warren Craig and Flora (Kidwell) Craig.
Gloria worked as an owner/operator for the Aurora Treehouse for 16 years, was a manager and head cook at North Dearborn Elementary School for 13 years, and was Line Lead at the Argosy Buffet for 12 years. Saying that she loved to cook would be an understatement. She farmed all her life, and she also enjoyed working in the garden and canning.
Gloria is survived by her children, Montgomery "Monty" (Amy) Hall of Guilford, IN and Teresa "Terry" Hall (late Michael) of Aurora, IN; grandchildren, Chrissy (Tim) Powell of Aurora, IN, Scott (Meghann) Hall of Lawrenceburg, IN, Steven Hall of Lawrenceburg, IN; great-grandchildren, Clinton Powell, Elizabeth Powell, and Anna Hall; sibling in laws, Linda Milan of Greendale, IN. Sonya "Kate" Capps of Kalamazoo, MI, Richard Hall of Toledo, OH, and Nancy Craig of Dillsboro, IN.
She was preceded in death by her parents Warren and Flora Craig; husband, Stanley J Hall; son, Michael Hall; grandchildren, Jason Hall, and Christopher Hall; siblings, Warren Craig Jr., James Craig, Carolyn Fuchs, and Doris Howlett.
Friends will be received Tuesday, November 30, 2021, 5:00 pm – 8:00 pm at the Rullman Hunger Funeral Home, 219 Mechanic Street, Aurora, IN.
Services will be held at the funeral home on Wednesday at 11:00 am with Pastor Tim Russell officiating.
Interment will follow in the Greendale Cemetery, Greendale, Indiana.
Contributions may be made to the Loving Hearts Hospice. If unable to attend services, please call the funeral home office at (812) 926-1450 and we will notify the family of your donation with a card.
Visit: www.rullmans.com