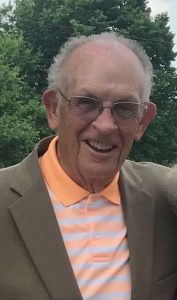 DECATUR COUNTY, IN — The Decatur County Republican Party has scheduled a caucus to fill the County Council District 4 seat vacancy created by the passing of Larry Meyer (pictured).
Meyer died on November 9 at the age of 78.
The caucus will be held Friday, December 3 at 7 pm at county GOP headquarters at 109 South Broadway Street in Greensburg.
Those who are interested in filling the vacancy have until November 30 at 7 pm to submit the proper paperwork to Decatur County Republican Party Vice Chair Deanna Burkart.
Her email address is [email protected].
Decatur County Republican Party Chairman Nate Harter has designated Burkart to conduct the caucus.