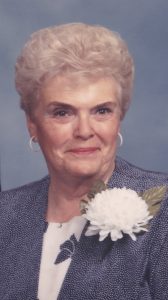 Carol Nell Clifton, 100, of Muncie, passed away on November 19, 2021. Carol was born in Greensburg, Indiana, to Charles and Mae Howe on October 7, 1921. She was a 1939 graduate of Greensburg High School and a graduate of Butler University. She was a devoted teacher and taught in the West End Building of Washington School. Carol was a member of Tri Kappa and CV Chapter of PEO.
She is survived by her daughter, Cindy Clifton; and son-in-law, Tom Cripe; niece, Ellen (Gregory) Gilliland Wadsworth; and several great nieces and nephews. She was preceded in death by her Husband, Max Taylor Clifton; daughter, Nancy Clifton Cripe; and nephew, Charles Gilliland.
A visitation will be held on Monday, November 29, 2021 from 12:00 pm until the time of the funeral at 1:00 pm at Gilliland-Howe Funeral Home. Burial will follow at the South Park Cemetery. Margaret Lowe will be officiating. Memorial contributions can be made to the Animal Rescue Fund, 1209 W. Riggin Road, Muncie, IN 47303 or to the MI Medical Center, P.O. Box 536, Mackinac Island, MI, 49757. Online condolences can be made to the family at www.gilliland-howe.com.