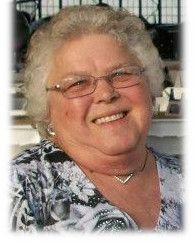 Beverly (Felix) Ludwick, 87, of Milan passed away Tuesday, November 23, 2021 at her residence with her loving family by her side. Beverly was born on Friday, August 3, 1934, in Milan, Indiana, the daughter of Webster and Minnie (Struckman) Felix. Beverly was a homemaker and enjoyed baking and tending to her flower garden. She loved quilting, making many baby quilts to pass along to her family members. Her greatest passion in life was spending time with her family, especially her grandchildren.
Beverly will be greatly missed by her sons, Robert Ray (Jacqueline) Kissell of Beaver Creek, Ohio, Steven (Sherry) Kissell of Osgood, Indiana, and George Nolan (Teresa) Kissell of Elizabethtown, Kentucky; daughters Jacke Louise Reynolds and Debra (Edward) Johnson both of Osgood, Indiana; eleven grandchildren; many great-grandchildren; and several great great-grandchildren.
Beverly is preceded by her parents, six brothers, three sisters, first husband Robert Neal Kissell, second husband Harley Ludwick, and grandson Casey Fuqua.
A Celebration of Life Service will be held at a later date. Memorials may be given in honor of Beverly to the Diabetes Association or the American Cancer Society. Laws-Carr-Moore Funeral Home has been entrusted with arrangements, Box 243, Milan, IN 47031, (812)654-2141. Please visit our website at www.lawscarrmoore.com to share your condolences and memories of Beverly.