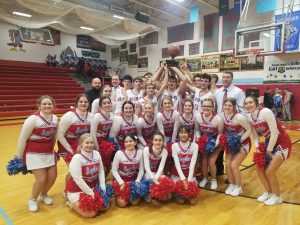 Our first high school boys basketball broadcast was last night and you'd be hard pressed to find a better game to start with.  It was South Ripley at Jac-Cen-Del for the annual Turkey Shootout.
In a contest which featured a couple of radical momentum swings, the Eagles swung last and defeated the Raiders 57-50 to snap a five-game losing streak to Team Green.
Hot three-point shooting by South Ripley staked the Raiders to a 12-7 lead at the end of the first quarter and their largest first-half lead of six points early in the second.
JCD fought back to briefly take a one-point lead, only to lose it but then rally to tie the game 28-28 at intermission.
Through two quarters, Caleb Simon and Wyatt Day of the Eagles had 13 and 10 points respectively while Nick Schwarte, Blaine Ward and Blake Volz had sevens across the board for the Raiders.
After an early three ball by the hosts to start the third, coach Tyler Theising's troops from Versailles scored 17 straight to go up 14.  But coach Clint Bohman's boys from Osgood did not fold.  In fact, the Eagles cut the deficit to seven by the end of the third and dominated the fourth quarter, 18-4, to win by seven, 57-50.
Simon scored a dozen for Jac in the second half to finish with a game-high 25 points.  Day added six in the fourth to close with 16.  And Ryan Wilson hit a trio of triples in the second half for nine points.
For Ripley, Schwarte scored 14 over the final two frames and finished with 21.  Volz followed with nine.
Both teams left some points at the free throw line.  South Ripley was 6 of 16 while Jac-Cen-Del made 8 of 14.   The Raiders shot well from the arc connecting on 10 of 17 but the Eagles outscored the Raiders 34-18 from two-point range which was arguably the most telling stat of the night.
The Eagles also won the JV game 42-37 led by Brady Comer's 15 points.  Landon Kohlman scored eight.  Cole Henry netted 14 for the Raider reserves and teammate Ethan Johnson had eight.
We thank coach Theising and coach Bohman for their time and information, Jac-Cen-Del's Brandi Merkel and South Ripley AD Jeff Gorrell for their assistance, and to JCD AD Kate Todd for the accommodations and hospitality.