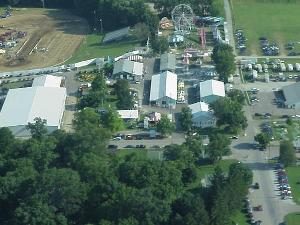 DECATUR COUNTY, IN — The Decatur County Fair Board on Monday discussed at length a proposal from County Commissioners on how to proceed for the 2022 Decatur County Fair.
Among other things, the proposal calls for the Fair Board to continue organizing and hosting the fair.
But because the fairgrounds are county property, Commissioners are proposing that all profits would be deposited into a county account established for the fairgrounds.
"We read over it as a board, hashed over it for some time, and came to the conclusion that it would probably be best for us to seek outside legal counsel to go over the proposal and suggest what direction we should go," said Fair Board member Mike Cuskaden. "We're just trying to figure out which way we want to go on taking care of the fair for this coming year, and what would be best for all of us board members and what would be best for the community."
Cuskaden added, once legal counsel makes a recommendation, the Fair Board will soon afterward decide which path to take.
"The fair will be here before we know it and we usually start planning for it in December to start getting ready for July," he said. "So it's something we don't want to drag our feet on. We want to make a decision and move forward and get going because there's lots of planning that needs to be done real soon. "
The 2022 Decatur County Fair is scheduled for July 7-13.